Monteverde is an Italian restaurant that offers deep-rooted traditional Italian food while pumping out new flavors. Run by Head Chef Sarah Grueneburg, her list of accolades include the James Beard Foundation Award for "Best Chef: Great Lakes." Monteverde is located in the West Loop neighborhood of Chicago and is known for some of the city's most delicious and creative new restaurants. However, as soon as you step inside Monte Verde, you have transported out of the West Loop and into Tuscany, Italy. The interior of the restaurant is filled with Italian tiles, wood floors, a handcrafted wood bar, purple bar stools, and floor to ceiling bi-folding doors. There is both indoor and outside seating where you can relax and enjoy the ambiance. Looking around, you will see that behind the wooden bar is their hand-made Pastificio – an Italian pasta factory, where throughout the day the team is creating and displaying their hand-made pasta. Now, let's get down to business. Normally, I battle between three dishes but Monteverde is a little different. We ordered a lot!
Here are my recommendations:
Nduja Arancini with Sicilian rice fritters, manchego, and tonnato aioli. I mean who doesn't want a fried rice ball filled with cheese and a spicy pork spread. Every time I bite into one of these, the first thing out of my mouth is " Oh yeah that's good" every single time.
Burrata e Ham with rosemary tigelle, culatta prosciutto, arugula, grilled cherry tomato, and toasted garlic. Tigelle bread originates from Emilia-Romagna and you rarely ever come across it in the states. It's shaped like a hockey puck, crusted on the outside, and light and soft in the middle. Slice open and make a prosciutto sandwich.
Soppressata Meatball made with Mangalista pork, Pomodoro, and Pecorino Romano, and wild oregano. The first time I ever had a meatball made with Soppressata was right here at Monteverde. Initially, I was a little taken back coming from an Italian family. Meatballs were a weekly occurrence and meatballs with soppressata just weren't a thing. But the flavors grew on me and grew on me fast. The soppressata adds a saltiness to the meatball that cuts through all the fat that gives it a unique and delicious flavor.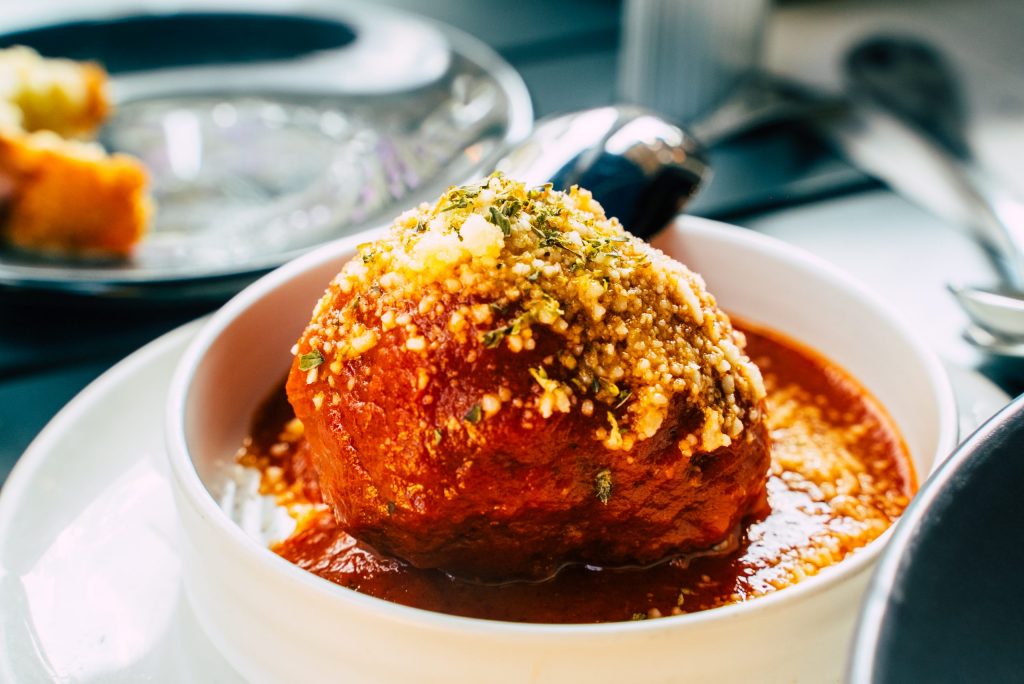 Artichoke & Sunchoke Crostino with house-made ricotta, shallot, fontina fonduta, and savini truffle. As you take a bite of this toasted crostino, you taste the flavors from the creamy riccota, the rich woodsy truffle, and the freshness from the chokes – a must have appetizer.
Meatball Ravioli with Pomodoro, Tuscan kale, Pecorino Romano, and wild oregano. Freshly made ravioli stuffed with meat, cheese, and herbs. Really one of those dishes you just can't pass up.
Spaghetti al Pomodoro oven-roasted tomato sauce, basil, and oven-dried cherry tomatoes. Your classic spaghetti with red sauce. The one mom used to make and who doesn't love an Italian mother's cooking.
Gnocchetti con Pesto with house-made ricotta, basil, Tuscan pine nuts, and Sardinian pecorino. The creamy ricotta, saltiness from the pecorino, fresh herbs, and the smoky toasted pine nuts make this one unforgettable meal.
What I Order
When I come to Monte Verde is the Gnocchetti con Pesto. We all have that comfort dish and this one is mine. It has all the flavors you need without trying to be over the top. It makes life not feel as complicated when I eat something so amazing with the simplest ingredients. Montverde in Chicago is one of those restaurants that never let you down.